Camille Ashley's Weekly Picks! (PLUS a FREE Ticket Giveaway).
Tuesday, March 11: JMWestLive Presents Drew Tabor/ Clare Means/ David & Devine/ Sonja Midtune/ Charles MCDonald & RIA.
Tickets $10 over 21 $15 under 21 Advanced/ $20 over 21, $25 under 21 Day of show/ Doors open at 7pm, Show starts at 7:30pm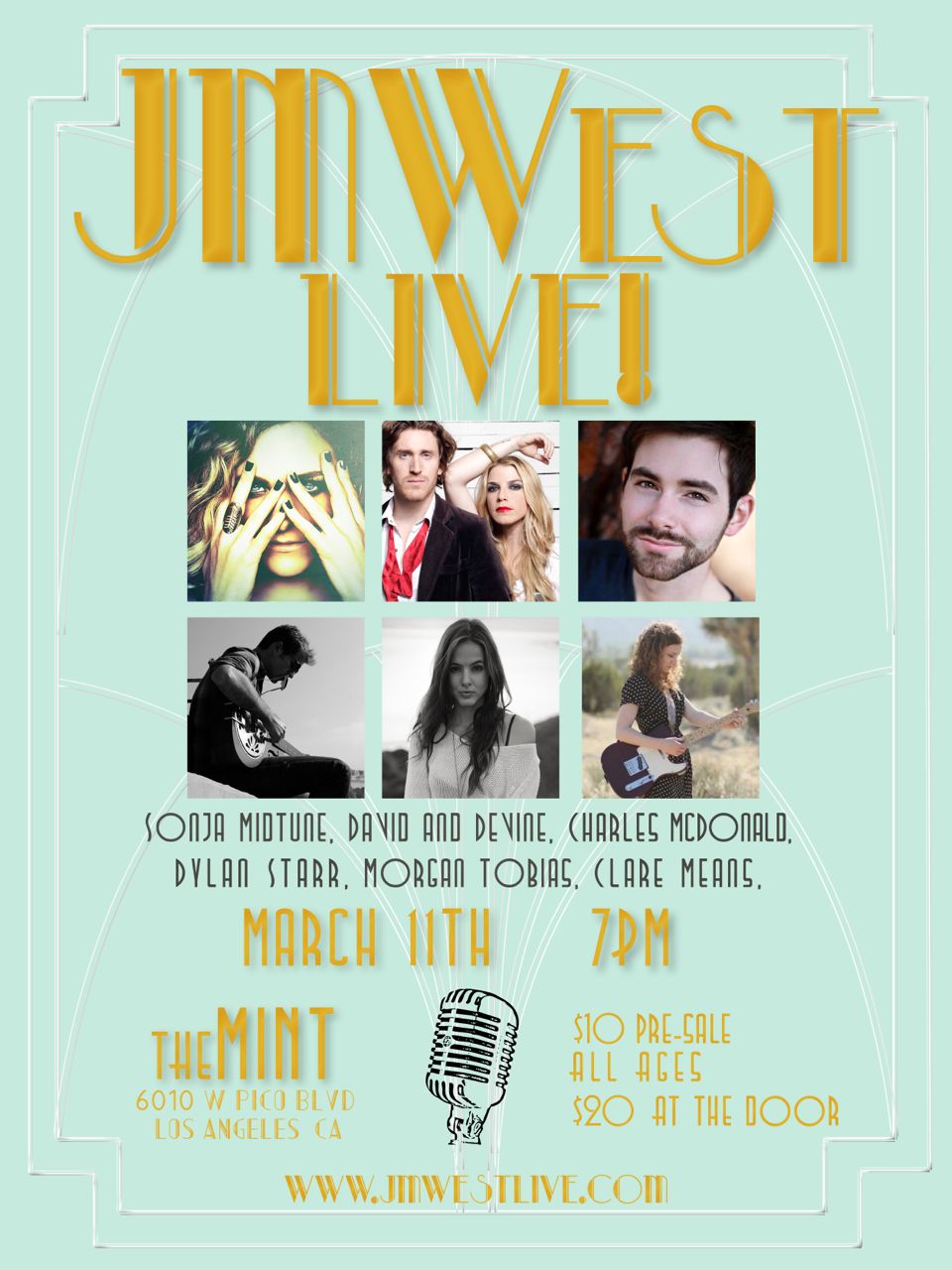 Created by French record producer and musician, Jean Michel Soupraya in 2010. JMWest LIVE! provides up-and-coming artists  a way  to introduce themselves to the industry by setting up showcases at popular LA venues-and Tuesday night, that popular LA venue showcasing the hand-picked talent of JMWestLIVE! will be right here at The Mint, where a bright array of talented, unsigned artists will be shining on stage.
Thursday, March 13: American Babies/ TL3 Tea Leaf Trio/ Doran Danoff, Kula
Tickets: $10 Advanced, $12 Day of show/ Doors open at 7pm, show starts at 8pm/ 21+
The tug-at-your-heartstrings twang of American Babies is a sound that immediately grabs my attention and tunes in my ears for a treat. Their 2013 album Knives & Teeth resonates a deep understanding of the human condition and is described by frontman Tom Hamilton as "a 40-minute existential meltdown" that spans from the Lou Reed-inspired "This Thing Ain't Going Nowheres" to the  punk energy of "Bullseye Blues" to the reluctant acceptance of "Goddamn," and depicts the delicate yet severe circumstances of life and the quest for fulfillment.
TICKET GIVEAWAY:
Be the first person to comment on this post and win a free pair of tickets to Thursday nights show w/ American Babies! 
Friday, March 14: The Dustbowl Revival/ decker/ The Street Hearts/ Moot Davis
Tickets: $10 Advance, $15 Day of show/ Doors open at 7pm, show starts at 8pm/ 21+
 The Dustbowl Revival is a nine-piece band replete with tuba, washboard, accordion, fiddle, mandolin, trumpet and guitar from Venice, CA who specialize in old school bluegrass, gospel, jug-band, swamp blues and the hot swing, creating a spicy yet nostalgic New Orleans inspired sound that rag-tagged them into being named the best live band by LA Weekly in 2013.
We can't wait to see you here soon, celebrating & supporting music from near & far.
Sincerely,
The Mint LA